| | |
| --- | --- |
| Welcome to | |
Abfrage3 is an online vocabulary trainer with functionality to create, share and organize word lists. Its purpose is to make learning vocabulary of a foreign language more efficient. The website is still under heavy development so some features might not work as expected.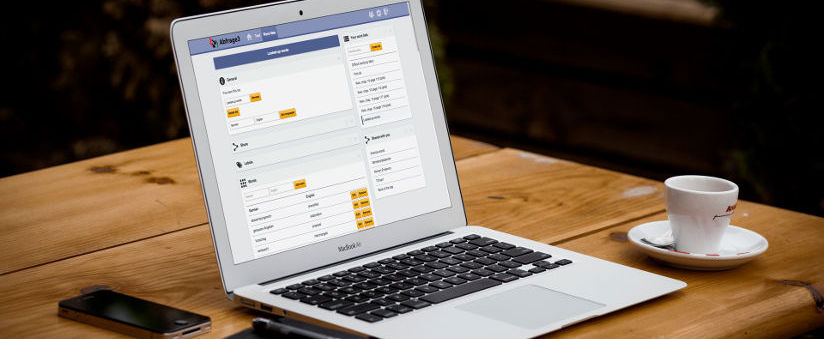 Here is how it works:
---
Create lists and add words
Define a name and create a new list for your words.
Your word lists
---
My first word list
Difficult new words
Add words to your lists to learn them later.
If you already have some words, e.g. in a file, you can simply import them.
Words
---
| | | |
| --- | --- | --- |
| German | English | |
| abwechslungsreich | diversified | |
| Vorschlag | proposal | |
---
Learn words
Learn the added words using the Test feature. Your answers (correct or not) will be saved to personalize your tests.
You can select different algorithms e.g. Random or Below average to make the test even more efficient.
Test
To lazy to type? Use buttons to learn the words instead of typing the answer every time.
English

:
leverage

German

:
---
Share your word lists
To share lists with other users add them by their email-address and define whether they have permissions to view or edit the list.
Keep in mind: To prevent spamming, other users can only see lists you've shared with them, if they have added you in the Users section.
Share
---
| | | |
| --- | --- | --- |
| Name | | |
| My classmate | Can view | |
| Another guy | Can edit | |
Add other users to see lists they've shared with you.
People you've added
---
| | | |
| --- | --- | --- |
| Name | Email-address | |
| My classmate | bla@gmail.com | |
| Another guy | email2@gmail.com | |
Terms and conditions for website usage
Welcome to my website. If you continue to browse and use this website, you are agreeing to comply with and be bound by the following terms and conditions of use, which together with my privacy policy govern Timo Denk's relationship with you in relation to this website. If you disagree with any part of these terms and conditions, please do not use my website.
The term 'Timo Denk' or 'me' or 'I' refers to the owner of the website. The term 'you' refers to the user or viewer of our website.
The use of this website is subject to the following terms of use:
The content of the pages of this website is for your general information and use only. It is subject to change without notice.
This website uses cookies to monitor browsing preferences.
Neither I nor any third parties provide any warranty or guarantee as to the accuracy, timeliness, performance, completeness or suitability of the information and materials found or offered on this website for any particular purpose. You acknowledge that such information and materials may contain inaccuracies or errors and I expressly exclude liability for any such inaccuracies or errors to the fullest extent permitted by law.
Your use of any information or materials on this website is entirely at your own risk, for which I shall not be liable. It shall be your own responsibility to ensure that any products, services or information available through this website meet your specific requirements.
This website contains material which is owned by or licensed to me. This material includes, but is not limited to, the design, layout, look, appearance and graphics. Reproduction is prohibited other than in accordance with the copyright notice, which forms part of these terms and conditions.
All trade marks reproduced in this website which are not the property of, or licensed to, the operator are acknowledged on the website.
Unauthorised use of this website may give rise to a claim for damages and/or be a criminal offence.
From time to time this website may also include links to other websites. These links are provided for your convenience to provide further information. They do not signify that I endorse the website(s). I have no responsibility for the content of the linked website(s).
Your use of this website and any dispute arising out of such use of the website is subject to the laws of Germans.
Security
Entering your data on my website is at your own risk. I can't guarantee for the security of the entered information. Your account's password is not being stored in plain text. Before it is being safed to the database the SHA1-hash is applied to it together with a randomly generated salt. A hash function is any function that can be used to map data of arbitrary size to data of fixed size.
Disclaimer
The information contained in this website is for general information purposes only. The information is provided by Timo Denk and while I endeavour to keep the information up to date and correct, I make no representations or warranties of any kind, express or implied, about the completeness, accuracy, reliability, suitability or availability with respect to the website or the information, products, services, or related graphics contained on the website for any purpose. Any reliance you place on such information is therefore strictly at your own risk.
In no event will I be liable for any loss or damage including without limitation, indirect or consequential loss or damage, or any loss or damage whatsoever arising from loss of data or profits arising out of, or in connection with, the use of this website.
Through this website you are able to link to other websites which are not under the control of Timo Denk. I have no control over the nature, content and availability of those sites. The inclusion of any links does not necessarily imply a recommendation or endorse the views expressed within them.
Every effort is made to keep the website up and running smoothly. However, Timo Denk takes no responsibility for, and will not be liable for, the website being temporarily unavailable due to technical issues beyond our control.
Copyright
This website and its content is copyright of Timo Denk. All rights reserved.
Any redistribution or reproduction of part or all of the contents in any form is prohibited other than the following:
You may print or download to a local hard disk extracts for your personal and non-commercial use only.
You may copy the content to individual third parties for their personal use, but only if you acknowledge the website as the source of the material.
You may not, except with our express written permission, distribute or commercially exploit the content. Nor may you transmit it or store it in any other website or other form of electronic retrieval system.
About Abfrage3
Who runs Abfrage3?
Abfrage3 is a project of mine. I am Timo Denk and I decided to develop some software to make learning for tests in school easier and more efficient. The advantage of an own website (other websites with similar approaches exist) was the possibility to add every feature I or other users need or will need and of course the fun to program such a big project. Another important point are the test algorithms: They determine which word will be asked next in a test so they have a enormous impact on the total time it takes you to learn a set of words. The chance to write those algorithms exactly as I think it works best does also exist only in a self-written vocabulary trainer.
What about earlier versions?
Abfrage3 has a long history: The first version, "Abfrage", was written in Java and looked very awful. It was developed in October 2013. Abfrage2 was not really successful, actually it was just an attempt to create a nice WPF layout which totally failed.
In Summer 2014 the third version Abfrage3, a C# WPF application, became the first version in this series of the vocabulary learning software with advanced features like uploading and sharing lists, auto translation and a lot more. It is still available on my german website. Unfortunately this version was only executable on Windows 7 and newer versions, which lead in August 2015 to the development of Abfrage3Web - the website you are currently visiting.
What does the name mean?
The name Abfrage3 is German and the word Abfrage [ˈapˌfʀaːɡə] means something like Test. For traditional reasons, the English version was also given a German name. The 3 stands for the third version (see "What about earlier versions?" above).
What's the ambition?
The big idea of Abfrage3Web was to create a fully functional vocabulary trainer which is fun to use. An important specification was the possibility to comfortably share word lists with other users.
Technical stuff
Abfrage3 is a single-page application using JavaScript clientside and PHP serverside. The data is being stored in a MySQL database on my server.
The project is open source! The whole code can be found on GitHub.

About me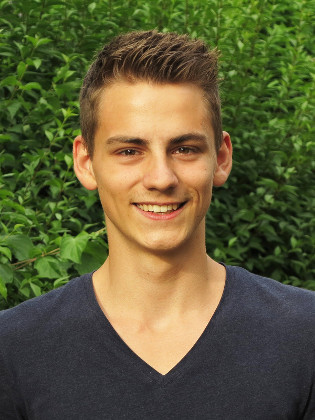 My name is Timo Denk, I am 18 years old and a German student. I am currently studying at Technisches Gymnasium in Waiblingen, Germany. I will get my abitur in 2016.
In my leisure time I like to develop software and realize hardware projects. I also do a lot of sports.